Jay Griffiths
'If bravery itself could write, it would write like she does.' (John Berger)
Jay Griffiths is the author of Wild: An Elemental Journey (Hamish Hamilton and Penguin UK, 2007), and Pip Pip: A Sideways Look at Time (HarperCollins and Penguin USA, 1999). Wild is an evocation of the songlines of the earth and the words and meanings of wilderness, exploring the essential wildness of the human spirit. Pip Pip: A Sideways Look at Time is a manifesto for time, against clocks, and examines some of the different ways in which indigenous cultures see time. Her fiction includes A Love Letter from a Stray Moon (Text Publishing, 2011; Penguin and Go Together Press, 2013), a short fictionalised biography of Frida Kahlo, and Anarchipelago (Wooden Books, 2007), a short novel about the anti-roads protests.
With Pip Pip: A Sideways Look at Time Jay Griffiths won the Barnes & Noble Discover Award for the best new non-fiction writer in the USA, 2003, for which her book was cited as 'cleverness in the service of genius'. Wild was awarded the Orion Book Award in the US in 2007, and shortlisted for the Orwell prize in the UK in 2008 and a World Book Day award in 2009. Her work achieved cult status when it was featured on Radiohead's website and the band invited her to write for its newspaper publication The Universal Sigh (2011).  She has performed her work in concert with singer KT Tunstall and Nikolai Fraiture of The Strokes conducted an in-depth interview with Jay Griffiths on her work, released on the Rumpus website. She has appeared in conversation with John Berger at the British Library, with Philip Pullman at the Oxford Literary Festival and with David Rothenberg at the Bristol Festival of Ideas and has spoken at the Hay Literary Festival and the Adelaide Festival of Ideas. Her work has been translated into many languages and has appeared in various publications including the London Review of Books,  The Guardian, The Observer, The Idler, The Ecologist, New Internationalist, Lapham's Quarterly and Utne.  She has written on 'Storms' for the RSC.  From 2009, she has been a columnist for Orion magazine. She has broadcast widely including on the BBC's Today programme, Woman's Hour, BBC World Service, New York Public Radio and has been interviewed for each of her books by Phillip Adams on Australia's National Radio.
At the Art of Risk Jay will give a talk with the title, 'Malevolent Obedience: How risk – for children and adults – is politically vital and psychologically vitalising.'
Anna Higgs
Anna is Commissioner and Head of Digital at Film4. She joined Film4 at the end of 2011 to head up groundbreaking innovation work. The first feature from her slate was Ben Wheatley's film A Field in England, quickly joined by Ken Loach's The Spirit of '45, Shynola's Dr. Easy and Iain Forsyth & Jane Pollard's Sundance award-winning film with Nick Cave, 20,000 Days on Earth among others.
Before joining Film4 Anna had an extensive track record of multi-award-winning independent film and television production with Quark Films, as well as experience across sales and distribution. Prior to Quark, Anna worked on BAFTA-winning digital entertainment media and in consulting on digital strategy and audience engagement for major global brands.
Anna was recently named as one of Time Out's 'Culture 100', described as "the innovators, visionaries and pioneers behind what's now and what's next" alongside Danny Boyle, Barbara Broccoli and Steve McQueen.
At the conference Anna will give a paper entitled, 'Starting the Obvious: Engaging with and commissioning for risk'.
Annabel Arden
Annabel Arden's distinguished career encompasses opera, theatre and broadcasting, plus acting, and devising new work. She studied at Cambridge, and with Gaulier, Pagneux and Lecoq in Paris. A co-founder of Theatre de Complicité, she worked on many of its acclaimed productions from The Visit(1988) to The Winter's Tale (1991) and Mnemonic (1999) and directed their first children's show The Lion Boy (2013).
Annabel's opera début was The Magic Flute for Opera North. Subsequent productions include The Return of Ulysses, La Traviata, The Cunning Little Vixen (also Barcelona) andLeonore (also Europe and New York). She directed The Rake's Progress for English National Opera, three productions for Glyndebourne, including L'Elisir d'Amour, and recently La Boheme for Welsh National Opera. Her theatre directions include Picasso's Women at the Royal National Theatre, The Art of War in Sydney and Heldenplatz at London's Arcola Theatre. In 2013 Annabel directed and narrated Vladimir Jurowski's farewell concert at Glyndebourne.
At The Art of Risk, Annabel will give a talk entitled 'Without risk there is no art'.
Professor James Drife
James Drife is emeritus professor of obstetrics and gynaecology at the University of Leeds, and an editor of the European Journal of Obstetrics & Gynecology.  He has been an elected member of the General Medical Council, a vice-president of the Royal College of Obstetricians and Gynaecologists, and a consultant to the World Health Organisation on 'Making Pregnancy Safer'.   He has written numerous papers and edited several books, and was for many years a regular columnist for the British Medical Journal.
His hobby is songwriting and he has appeared frequently on the Edinburgh Fringe.
Dr Anthony Carrigan
Anthony Carrigan is Lecturer in Postcolonial Literatures and Cultures at the University of Leeds. He is the author of Postcolonial Tourism: Literature, Culture, and Environment(Routledge, 2011), and his current research focuses on postcolonial literature and disaster. This project has been supported by Fellowships from the Arts and Humanities Research Council and the Rachel Carson Center for Environment and Society in Munich, and in December 2014 he will be hosting a significant public engagement event in Leeds to commemorate the tenth anniversary of the South Asian Tsunami, the twentieth anniversary of the Rwandan Genocide, and the thirtieth anniversary of the Bhopal Gas Disaster.
At the conference Anthony will discuss some of the structural perspectives on risk that emerge from his research on how disasters are represented in postcolonial literature and film. He is particularly interested in how terms like 'resilience' and 'recovery' are figured in places where disasters tend to unfold on multiple timescales, and where experiences of risk and vulnerability are entwined with long-term exploitation and injustice.
Ric Green
Ric has over 30 years experience in the theatre industry. He trained at the Royal Scottish Academy of Music and Drama in Glasgow. After graduating in Technical Studies he pursued a freelance career for a number of years prior to joining the National Theatre in London first as a Sound Engineer, then as Head of Sound and finally as Deputy to the Technical Director. He left there to be Technical Director at Opera North in Leeds. He is now the Operations & Technical Director at Opera North, closely involved at senior level in policy making, strategic planning and the running of the company. He has hands-on experience in sound and lighting design as well as production and technical management.
The Operations & Technical Director is a senior management position reporting to the General Director and the Board.  Ric's responsibilities include asset and property management, membership of the Senior Management Team, strategic planning and the realisation of the physical elements of the operas and their presentation at venues throughout the North of England and abroad. He has also overseen on behalf of Opera North the successful delivery of the £31.5m refurbishment and renovation of the Leeds Grand Theatre with a new-build Opera Centre for Opera North in partnership with The Grand Theatre Board and Leeds City Council. The Grand Theatre was opened in 1878 and the sympathetic heritage sensitive restoration brought benefits for the public with improved ventilation and seating, for the artists and orchestra with new rehearsal facilities and state of the art upgraded technical facilities.
He combines his time with Opera North with his Theatre Consultancy work through his association with Theatresearch.  Theatresearch provide a wide base of theatre consultancy services specializing in restoration of old theatres. His client portfolio includes Royal Opera House, London; English National Opera, London; Welsh National Opera, Cardiff; La Monnaie, Brussels and other UK regional theatres.  The work includes management and logistics advice as well as general technical theatre consultancy.
Yan Preston
Yan Preston is a professional artist and risk taker. In the last four years she has made eight trips to China from her home at Hebden Bridge, West Yorkshire, in order to complete her epic project Mother River, for which she has been making photographs along the 4,000 miles long Yangtze River with a precise interval of every 100 kilometres.
Having changed her career from a practicing anaesthetist to an artist 9 years ago, Yan has shown her work at national and international venues, including the National Portrait Gallery in London, the Noorderlicht Photography Festival in Holland, and the Leeds City Museum. She has also won a number of awards, including the Reviewers Choice Award at this year's Format International Photography Portfolio Review at Derby, and the Curator's Choice Award from CENTRE Photography, in Santa Fe, New Mexico.
Dr Lourdes Orozco
Lourdes Orozco is Lecturer in Theatre Studies at the Workshop Theatre, University of Leeds. Her research interests are in contemporary European theatre and performance. Her recent publications are largely on contemporary Western European performance practice with a focus on the material conditions of performance and its relationship with politics, ethics and identity. Her most recent research projects revolve around the participation of children and animals in theatre and performance and include a consideration of risk in that participation. Her recent publications include Theatre & Animals (Palgrave Macmillan, 2013) and the forthcoming Performing Animality: Animals in Performance Practices(Palgrave Macmillan, 2014).
In a short provocation at the Art of Risk, Lourdes will address questions of risk and risk taking in contemporary performance practice within the theoretical context established by Risk Theory (Ulrich Beck, Mary Douglas, Anthony Giddens).
Susie Godsil
Susie Godsil is a member of the British Psychoanalytical Society and has an independent practice as a psychoanalyst in Leeds. She also holds a Consultant Psychotherapist post within the psychoanalytic team of the NHS Adult Psychological Therapies Service in Leeds where she has a special responsibility for seeing doctors in difficulty and is Course Director for the Tavistock and Portman Trust's Masters in Psychodynamic Psychotherapy and Intercultural Psychotherapy training in Leeds. She has written on unconscious factors affecting perception of risk in pre-natal diagnosis and on psychoanalysis and opera, collaborating with Opera North projects on a series of symposia on this subject.
In her paper she will consider various factors involved in attitudes towards risk in mental health care.
Performers
Leeds Young Authors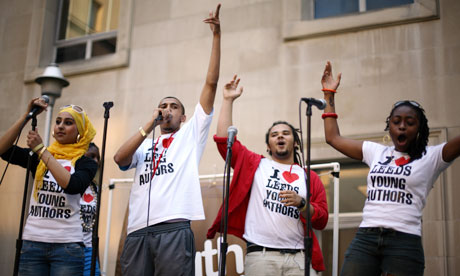 Leeds Young Authors (LYA) was founded in 2003 as an approach to creative education that promotes positive social dialogue through the written and spoken word by stimulating a love for poetry and literature as a whole, among young people (ages 13-19) from all backgrounds.  The organisation's overall goals are to explore the use of creative writing, spoken word and performance poetry, and the competitive environment of poetry slams, to dispel the myth among young people that poetry is an outmoded form of cultural expression. By creating spaces to celebrate youth voices, LYA promotes the benefits that good writing skills can afford today's youth in their personal, professional and academic lives. LYA champions active literacy, social, political and cultural awareness, and provides opportunities for young people to develop their artistic abilities as confident writers and live performers: all essential contributors to the literary continuum. LYA conducts weekly creative workshops, stages a number of poetry slam events – including the annual youth team slam, the Voices of a New Generation Literature Festival – and its youth performers participate in a number of literary festivals and artistic productions across the country. LYA has won a number of awards and accolades, made several media appearances, and was the subject of the multi-award-winning documentary We Are Poets. LYA receives a number of requests for commissions each year which has led to its young people's work appearing in several publications.
Dave Kane
Composer and bassist Dave Kane was born in a small town called Bangor in County Down in Northern Ireland. At age 16 he bought an electric bass guitar from a catholic priest for £50 and began moving his fingers up and down the E string in local punk and alternative bands. With aspirations of eventually playing on the other three strings of the bass, Kane began studying music at a local college with the internationally acclaimed composer and bandleader Brian Irvine. As a direct result of hanging out with Irvine, Kane began to explore the idioms of free improvisation, contemporary jazz, classical music, funk, metal, red wine and general mayhem! Further exploration was required, so Kane rowed across the Irish Channel on his double bass and studied contemporary music at Bretton Hall College of the University of Leeds.
Unfortunately, there were no influential teachers there like Irvine, so he learned how to use a library and subsequently encountered the music of John Cage, Edgar Varese, Cecil Taylor, Barry Guy, John Coltrane, Iannis Xenakis, Charles Mingus, Frank Zappa and John Zorn. Upon graduating from university, Kane lived and worked in London for a while trying to get his 'shit together' and playing free music with some British jazz legends including Keith Tippett, Paul Dunmall, Elton Dean, Evan Parker, Tony Levin, Mark Sanders, Paul Rogers, Alex Maguire and many other heads. Currently based in Leeds, Kane is a founder member of L.I.M.A. (Leeds Improvised Music Association) and the musical director and composer for the L.I.M.A orchestra. An ever expanding large improv orchestra featuring some of the UK's finest young musicians including Matthew Bourne, Chris Sharkey, Christophe De Bezenac, Petter Fadnes. Dave's other projects include the internationally acclaimed Bourne/ Davis/ Kane; Dave Kane (solo double bass and vocal); the Shank Trio (featuring saxophonist James Allsopp and drummer Tim Giles); Didrik Ingvaldsen's Quartet Alpha; and Dave Kane's Rabbit Project.